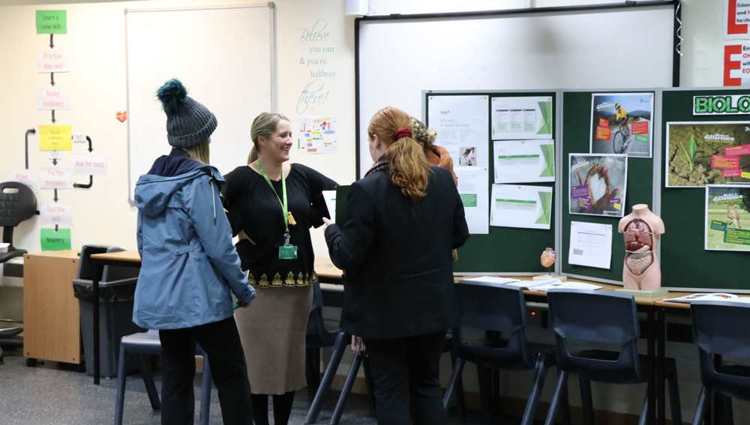 Families flocked to check out a unique sixth form which offers the opportunity for students to study both academic and vocational courses at the same time.
BMAT Sixth Forms have launched a curriculum package to cater for whatever path young people want to take after school.
Whether students are looking to study A-levels, vocational courses or wanting to specialise in STEM subjects, the combined sixth forms of BMAT STEM Academy, in Harlow, and Epping St John's Church of England School, in Epping, have created a curriculum to suit.
More than 165 prospective students visited Epping St John's and BMAT STEM during their open events to hear more about what is on offer from September 2020. A further 25 families asked for more information during the Burnt Mill Academy parent evening.
Fulin Baki, head of Epping St John's sixth form, said: "It was a great opportunity for students and parents to meet our advisors and subject teachers, as well as our existing sixth formers to share their first-hand experiences. These were important events for prospective Year 12 students to make informed decisions about their further education after GCSE.
"At Epping St John's, we were proud to showcase our brand new sixth form facilities, where students have the freedom to focus on their studies independently. Our vibrant common room is a space where students socialise and work in small groups.
"Prospective sixth form students had the opportunity to get a real sense of what it would be like to study for A-levels and vocational courses at Epping St John's."
BMAT STEM headteacher Dustin Schuyler said: "The BMAT STEM information event went really well with lots of positive feedback. We welcomed lots of students from both within and outside of BMAT schools.
"Prospective students like the idea of doing STEM subject and are intrigued by the option to do both vocational and academic subjects with BMAT Sixth Forms.
"We have had a lot of interest in what we are offering. There is an incredible need for us." Apply for BMAT Sixth Forms here.