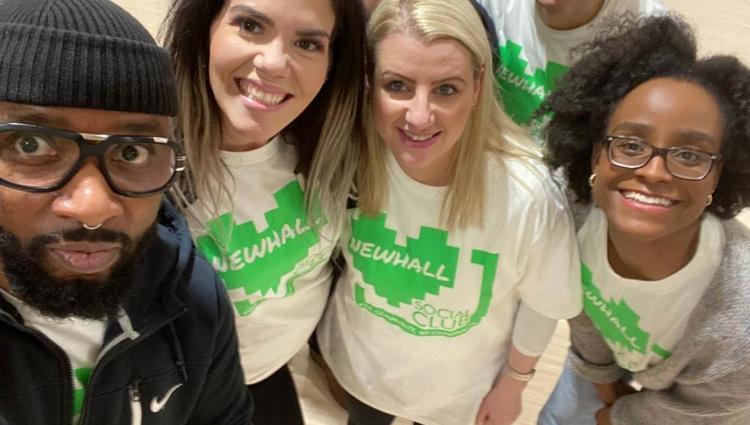 A teacher is reaching out to her neighbourhood in support of those struggling with social isolation during the Coronavirus shutdown.
Cristin Casey is director of performing arts at the BMAT group of primary and secondary schools in Harlow, Epping and Stansted in Essex and Newham in London.
Her role means she works in the hustle and bustle of schools every day, surrounded by noise and people.
Now, with schools closed to most and teachers spending time working from home, she is finding herself in isolation at home while her husband works in school.
As a resident of Newhall in Harlow, she is a member of the Newhall Social Club, set up to host events in the community.
With all events cancelled, Mrs Casey and the club members are coming together to offer support to those around them who are socially isolated.
Mrs Casey, whose focus in the group was events for youth engagement, said: "Social distancing is very uncomfortable for people who are used to being busy and engaging with people on a daily basis. In my job, I never have a free moment; from when I get to school to when I leave, someone needs me at all times. Yes, I am still needed and am doing lots in my day job, albeit at a slower pace, but I find myself in isolation for several hours a day.
"There is a sense of vulnerability and insecurity, so I am finding ways I can help people in a similar position. I have a partner who is out working, but I can speak with him every day; I worry about those who do not have people to lean on at this time.
"We are spreading the word to our community that we are here to help however we can; if people need shopping collecting, someone to talk to on the phone or a face to face conversation over FaceTime for those who are feeling lonely. We are suggesting activities to help people with their mental wellness.
"I want to be able to support and help in any way I can – that is how I am in my role at school and in the community. I will do whatever I can to help. I live and breathe Harlow and so I want to give back. If I have resources, I will always share them with those around me. If I am that resource right now, needed for picking up essentials or having a chat with someone, that is what I will share. It is bringing a sense of wellbeing to someone else, but also bringing satisfaction and wellbeing to myself at the same time.
"Sometimes just a smile as you pass people out running or walking their dogs can warm someone's heart after being at home all day. Everyone is feeling isolated and vulnerable and so I just want to reach out. We are a social club and so need to keep being sociable, at this time more than ever."
As a teacher, Mrs Casey is looking to supply resources to parents and children in the community to help them to keep occupied and challenged.