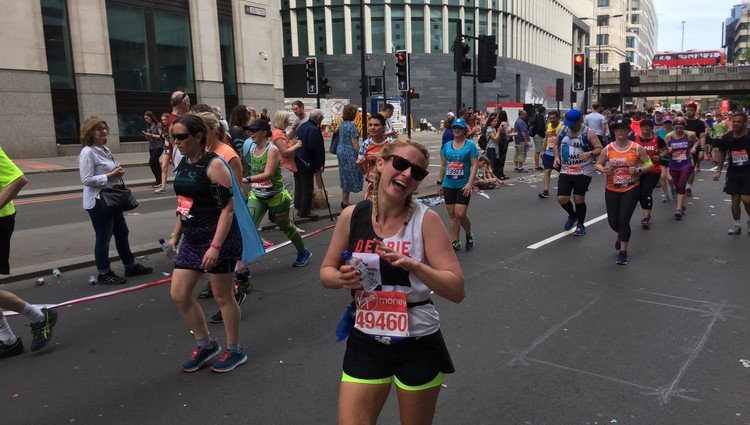 Dreams came true and money was raised when teachers from Burnt Mill Academy Trust (BMAT) schools completed the London Marathon.
Mr Bakkar, assistant headteacher at Burnt Mill Academy in Harlow, was inspired to lose weight and get fit for the mammoth task on Sunday. He weighed 24 stone and could not run for 30 seconds when he decided a year ago to rise to the challenge.
He completed the run in six hours and 56 minutes, raising money for Great Ormond Street Hospital.
He said: "What a day! It was absolutely amazing! I can't believe I've done it; I can't believe it's happened.
"I could not have done it without all those who have supported me and came to London; it was immense. Every corner I turned, there was someone standing there. I was so lucky. If you were there, thank you so much, you really got me through."
Mr Osborne, executive principal and head of the west Essex hub of schools within BMAT, finished in five hours and 20 minutes, raising money for Crisis homeless charity.
He said: "This was the best achievement of my life; it was just the most wonderful experience. The public and runners were amazing. The support from the crowds on the day and from the whole BMAT family felt really special.
"I persevered through the cramp and blisters early on and fought through the heat. I just kept reminding myself of the reason I was running - to help eradicate homelessness.
"This experience taught me that we all must run our own races in life and that literally anything is possible."
For Ms Round, subject lead for maths at Forest Hall School in Stansted, the marathon came after she once ran four marathons in one year.
This year, she was fundraising for The Children's Society and completed the course in five hours and 46 minutes.
She said: "I'm so proud of myself, Shawki and Allan for completing the hottest London Marathon in history! With the heat being as it was, all hopes for PBs were out the window and the main aim was to get around safely and enjoy it.
"The crowd were amazing. Marathon day is when London really comes to life and the support we received from friends, family and total strangers blew me away. Coming over Tower Bridge was the big highlight for me; I definitely had a tear or two in my eye!
"As you approach the finish, there is a huge sign which says 800m to go – that was the longest 800m I think I've ever run! Coming around the corner and seeing the finish line was something I'll never forget. So proud and full of admiration for everyone who ran that day. It was tough, but no one said a marathon was easy!
"Bring on London 2019!"