Schools provide digital devices to disadvantaged
Back to News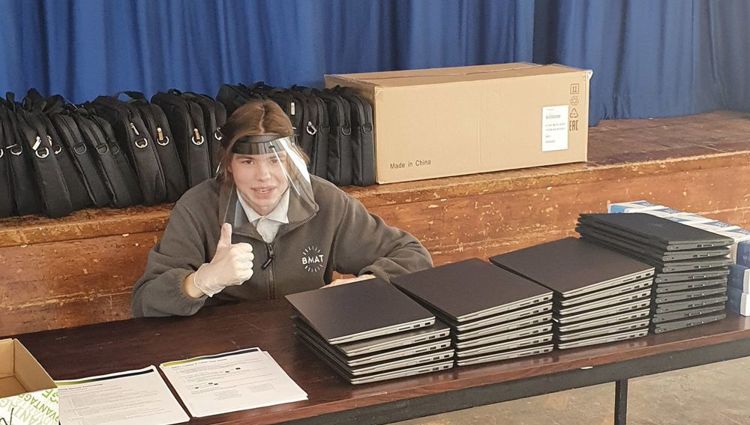 Disadvantaged children have been provided with digital devices and unlimited broadband by their school to enable them to learn at home.
The government is offering digital devices and internet access to children who have a social worker and to disadvantaged Year 10 pupils, but not primary school pupils or those in other secondary school year groups.
Families may not receive the government support until June.
To ensure all of its disadvantaged children – including those in receipt of free school meals who do not fall into the government scheme – were able to continue their learning while at home, BMAT gathered all devices from across its schools to share with those in need.
About 210 pupils from the Trust's primary and secondary schools in Harlow, Epping and Stansted in Essex and Newham in London have benefited from the initiative.
Richard Canning, BMAT chief information officer, said: "We know everyone's home situation is different and that some children will not have continuous and reliable access to a device or to the internet. The government scheme is welcome, but it is small scale and could take weeks to come in, so we made the decision to act as soon as possible for our own children. We repurposed our own laptops and tablets, bought mobile internet connections and gave these to those who needed them the most.
"This is about equality of access; about helping everybody to smash through barriers to achieve success, regardless of their background or status.
"I am proud the Trust has shown such a strong social conscience. We just wanted to give our young people every opportunity possible."
Families were able to collect the tech from socially distanced stations at Royal Docks Academy in Newham; Epping St John's Church of England School in Epping; Burnt Mill Academy and Freshwaters Primary Academy in Harlow and Forest Hall School in Stansted.
A batch of more than 100 laptops has also been bought and given to specific staff to support the development of the Trust's curriculum from home.
Mr Canning said: "To make sure learning can continue as closely as possible to normal, we also bought laptops for our staff leaders. Not everyone has a laptop available at home and those responsible for developing lessons can continue with their work and are being supported to do so during this period of partial closure."