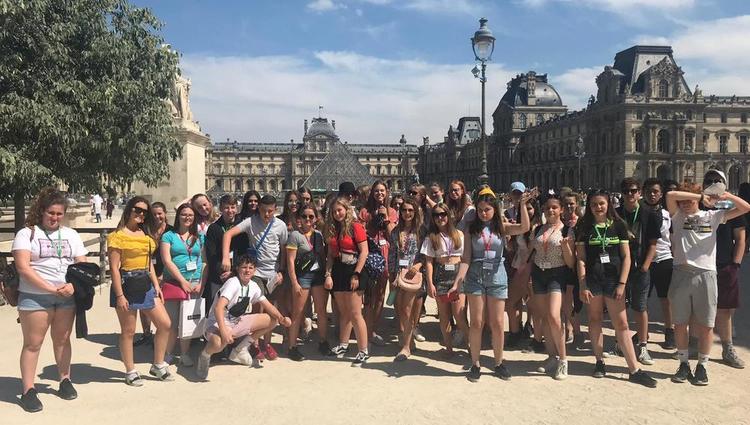 Students from three partner schools came together for their first shared trip abroad.
BMAT schools Epping St John's Church of England School, in Epping; Burnt Mill Academy and BMAT STEM Academy, both in Harlow, gave their students an opportunity to visit Paris together.
The group of 41 students spent five days in the City, visiting the Louvre Museum where they saw the Mona Lisa portrait, Champs-Elysees, the Arc de Triomphe and the Eiffel Tower. They also took a boat trip on the River Seine and visited Disneyland.
Flora Christofi, BMAT director of modern foreign languages said: "This is the first time we have combined the secondary schools for a trip.
"BMAT STEM is a new school and so does not have enough students yet to run its own trip. By partnering up with the larger schools in the trust, they have been able to offer their students something they would otherwise not have access to.
"As director of languages across all BMAT schools – in Epping, Harlow, Stansted and Newham, London – I look at it as one department and already have plans in place for more joint opportunities for our young people.
"The Paris trip was amazing. Our students gained cultural capital, got to practise their French, made lifelong friends and gained independence."
Mike Yerosimou, head of school at Epping St John's, said: "We are so lucky to have Mrs Christofi leading languages across BMAT. Her passion for broadening horizons for all of our students has always been evident, both in and out of the classroom.
"We are delighted this trip has been extended to include other BMAT schools. They all had a great time!"
Dustin Schuyler, head of school at BMAT STEM from September, said: "BMAT schools work together in a variety of ways and this is one of the many benefits which comes from that.
"We're fortunate at BMAT STEM to offer a unique curriculum and program while also being able to take part in wonderful experiences such as this trip to Paris. That would not be possible without working together with other BMAT schools."