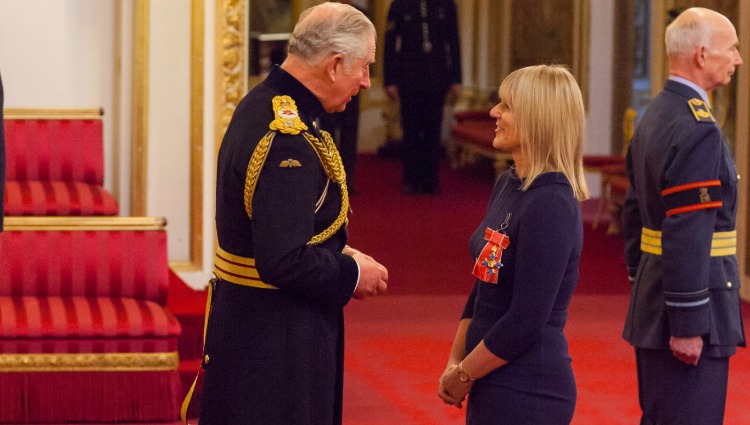 The Prince of Wales asked all about education in Harlow when he bestowed school leader Helena Mills with a CBE.
The CEO of the Burnt Mill Academy Trust (BMAT) attended a formal ceremony at Buckingham Palace where she received the honour from Prince Charles.
During the presentation, the Royal asked Ms Mills all about the Trust, its work and achievements.
Ms Mills, who leads BMAT's group of schools in west and north Essex, said: "It was a real honour to receive such recognition for all the hard work we do here at BMAT to provide great education for young people. It is not something I ever expected to achieve; it isn't something a person from my humble beginnings ever imagines will happen to them. I accepted this award for all the staff and students in our Trust who work hard to ensure all children, no matter what their humble beginnings may be, can achieve amazing things, too."
Ms Mills received the award from Prince Charles. Ms Mills said: "He already knew about BMAT and was interested in what we were doing as a Trust. We talked for a short period about the challenges schools are facing and the origins of BMAT in Harlow.
"It was a wonderful opportunity to have some time with the Prince and to celebrate what we are doing within BMAT."
Ms Mills was one of 60 public servants to be honoured in the Palace Boardroom on Thursday. She said: "It was great to meet the other public servants who are making great contributions in areas such as the health service and education. We had some time to mingle before the ceremony and hear about each other's work."
Of the prestigious experience itself, Ms Mills said: "Walking through the doors of the palace was very exciting. I love a bit of pomp and ceremony so enjoyed seeing the Palace in action, especially seeing the Yeoman of the Guard.
"Most importantly, though, I enjoyed spending time with my family to celebrate this achievement.
"I just wished my mum was still alive to have come with us. She would have been so proud."